Bedri Baykam. We are not gonna play your game
On April 15, the world celebrated World Art Day, an international celebration of the fine arts which was declared by the International Association of Art (IAA) in order to promote awareness of creative activity worldwide. Bedri Baykam (the president of World Art Day) talks about wrong passport for artists, cultural imperialism and censorship in Turkey.
Meet Bedri, the Turk
I'm not German. I'm not Italian. So it was as if I was supposed to die in front of all these artists as if I didn't exist, because I had the wrong passport. That was how I went through the 80s...
I've been doing art since I was two, and I've been having international shows since I was six. I had shows all around the world since 1963.
I'm not one of those artists who repeat the same image all the time. Since my early 20s, my art evolved around different techniques and series.
It was challenging from the beginning. I said to myself, "I don't want to be recognized for one image that repeats all the time, but I want to be recognized rather by my attitude." I work 18 hours each day. I sleep only 4-5 hours.
As soon as I discovered how prejudiced western art establishment was, as soon as I undeniably noticed how all those galleries wanted to sell just American, Italian and German art only. This made me very angry. It was ridiculous. This could never be the job of a museum. "The real duty of the museum is not to make life easy for New York galleries" (from SF Manifesto, 1984*). The job of a museum is to research art from around the world and to come up with independent findings. They're using public money.
I was the first person to struggle for the rights of non-western contemporary art. That includes Ukrainian, South American, Middle Asian, African art as well as Turkish...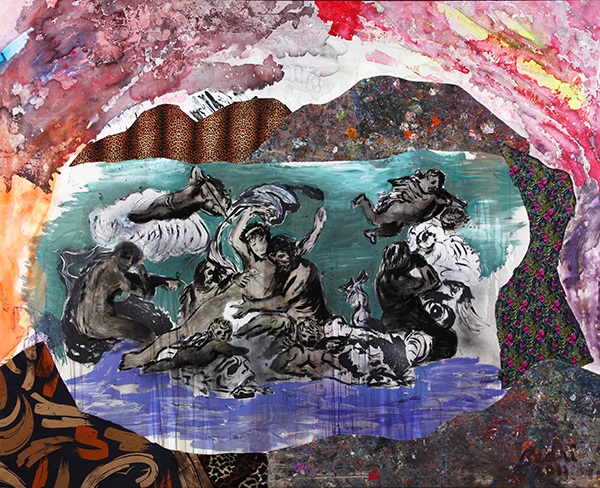 Bedri Baykam. Galatée, 201x247 cm, mixed media on canvas, 2011
All images – courtesy of the artist
East-West: They are only using us like a sauce
In 1985, when I said, "Hey, friends from England, Germany, Italy, and The United States, you look like rich kids who say 'it's my ball and only I will play'. If you want to have fun, go ahead, but we don't swallow it anymore, we don't accept it anymore, we don't believe you anymore. You write the history for yourself, only the history of your own art. We are not going to accept blindfoldedly your history anymore. 'Oh, this is the history of the world'. No, this is just the history of the western world! I was probably among the very first ones to question that and openly react to it, by publishing my manifesto of refusal with a fresh reevaluation of art history, in summer 1984. Since that day, that subject has never ceased to be in my agenda's priority.
Well, today everything still belongs to the west. They only use us like sauce, as pepper for their nice international cuisine. We are simply there to make these shows look "international", but we never win, we are never really credited on the top level. All the retrospectives and big exhibitions and large publications are almost just about western artists. Here is Henry Moore, or Giacometti – they are like kings, and there is art from eastern and southern cultures - it's just treated locally, as peripheral, touristic, folkloric.
In the modern/contemporary times, when African or Columbian artists do anything that touches surrealism or minimalism they say, "Hey, you are copying the west". However, they, the westerners have made a big part of their own careers based on their super-inspirations from South American or African or Middle-Eastern art, it's fine. Then they say that they are just enlarging their horizons!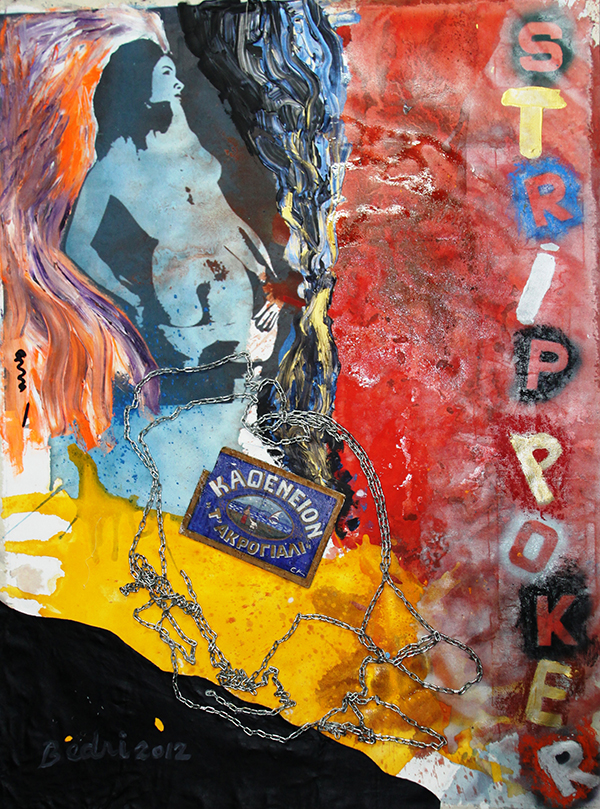 Bedri Baykam. Strippoker, 144x191 cm, mixed media on canvas, 2012
First 7 years in USA
I don't want to call it racism but I ran into prejudice from American museums and curators. They didn't understand that a Turk could want to be a contemporary artist, with the same rights as the other European or American colleagues - it doesn't make sense to them.
Relations with the galleries and museum curators were strained. It was the wall between us. It was a hard time, and very risky, sometimes running on empty. I was teaching tennis until 1982-83 before I start to sell my art. I started having shows in San Francisco, New York and Paris galleries. They were quite successful. Little by little, I became a professional artist and started to sell my works for thousand of dollars.
Political art
A lot of people call me Andy Warhol of Turkey, but Andy Warhol was not so political.
- Can an artist be apolitical?
- Probably not.
I came back to the Turkey in 1987 and saw the rise of Islamic fundamentalism. I saw it much earlier than the vast majority of Turks by far, started writing about it and doing artworks around that subject that inspired me with it's controversiality. I have been very much trying to alarm the country's democratic defenders and the crowd with my interventions with it. Many people have only recognized the crisis fully only in the last years.
My manifesto was distributed, not in San Francisco, but also in Centre Pompidou in Paris. It referred to my San Francisco Manifesto and my large book "Monkeys' Right to Paint". For westerners it's unbelievable that monkeys can do art. The same astonishment goes for them for non-western artists and contemporary art. So during the first Istanbul Biennale, I did my Box of Referendum "Do Monkeys have a right to paint?". And 93% answered YES so I have kept on painting!
Additionally, I gave a lot of political speeches all over Turkey. For many people, some millions, I'm a political leader. They see me more as a political leader representing them as an artist.
Sometimes I think, – okay, I do political art; it doesn't mean that everybody should do political art. But, they should sign petitions, they should walk, they should protest. They should speak out loud. Your attitude must be to defend of the freedom of speech.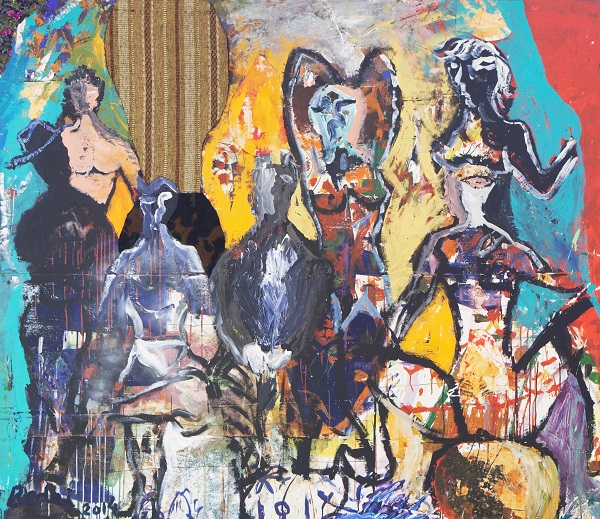 Demoiselles with the Sailors (The Philosophical Brothel). Mixed media on canvas, 170x195 cm, 2014
Censure situation in Turkey
It's going from bad to worse. They are arresting people even for their tweets.
During the protest in Turkey five years ago (Gezi Park protests, 2013), there were one million people in the street protesting against the government. One year later we were the only gallery/art center that did something about the Gezi protests. We did a show, with artists from every generation that explained to the world what went on. We have this show in Piramid (Piramid Sanat is an independent art center in Istanbul founded in 2006 by Bedri Baykam), not a single place could even think about doing something like that.
When Erdogan was in power, I did a show about the journalist, writers and soldiers in prisons. It was very dangerous. I could have been thrown in jail at any moment. We found out later that I was on the list to be put on the jail. By the same islamist people, the Gulen sect, ex-allies of Erdogan's Party who later in 2016 tried to make a coup d'etat against the Government of Erdogan! Sounds complicated right? You know what happened? In 2011, as I was leaving left a press conference, an Islamist extremist stabbed me with a huge Rambo knife. After 6-hours surgery, I was hospitalized for two weeks. It was terrible. He went to jail for 32 years. The stab wound was just three millimeters away from my main artery.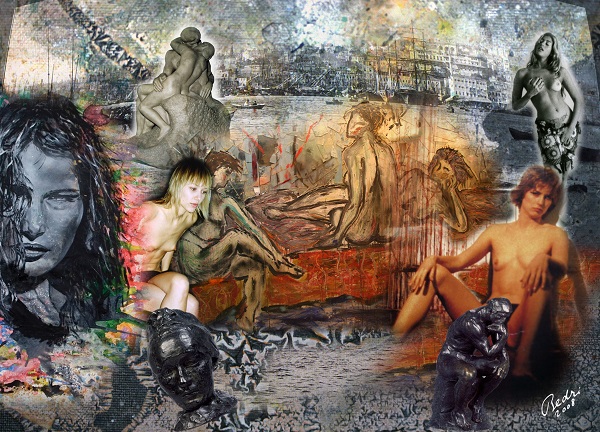 Harem'in Dünü ve Bugünü-1, 4-D çalışma, 180x240 cm, 2008
If I became a president I'll quit very fast

In 2003, I was a candidate for the presidency for the Turkish social-democrat party (CHP-Republican Party of the People). I almost won, however, the outgoing president changed the statutes of the party, just in the last couple hours so that he couldn't lose to me. My relation with politics is still going on. I still care very much about CHP. If I had become a president, I would not have stayed president for 15 years. I would open the doors to the women, young people and NGOs. Additionally, I would change the statutes to make the party function independently from the leader. Then I would quit. I have so many other responsibilities.
"He kept the sperm for 35 years" — the craziest experiments
BB: I wrote an autobiography in two volumes up to when I was thirty. This was another big scandal in Turkey, because, when I was fourteen I put my first sperm, which I had cleaned with a napkin into my diary. When I wrote my autobiography, I did a show about the book. So, even that diary was shocked, people started thinking and spreading the word around that in the gallery I was showing my sperm. But, in the reality, I was showing it in the diary, where the first sperm was. Again, it was a big scandal for three years. "He kept the sperm for 35 years". Any scandal is good for publicity, but I don't need it. I said, "I'm a creator and an artist, and sperm is most creative juice of the artist and human being that I am." That's why I kept it. Anybody who is going to do the same, will only be repeating me. It's done for the first and the last time. It's already happened. As they say with my motto "this has been done before!". Besides my typical canvases, people are use to see me doing lenticular works, installations, videos.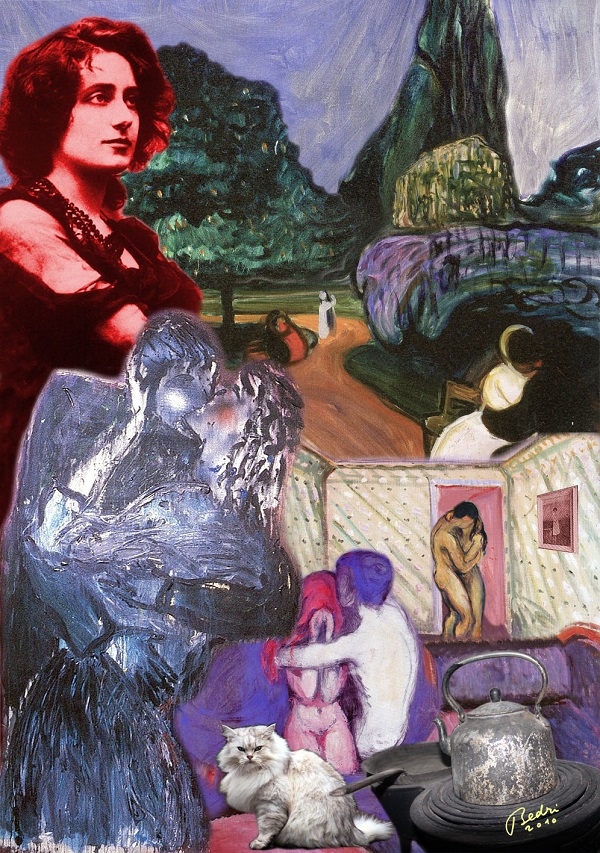 The Kiss (Homage to Munch series). 4-D Work Lenticular print. 185x120 cm. 2010. Edition of 3+1.
World Art Day. People would not say "no" to Leonardo.

In March 2011, before going to the General Assembly in Guadalajara, Mexico, I was sitting with my Turkish board as the Turkish president of IAA (The International Association of Art). I said, "Guys, there's Woman Days Father Day, Mother Day and Love Day, but no World Art Day." So, we picked the date, April 15 - Leonardo da Vinci's birthday. We choose Leonardo because he is a multi-faceted artist, like postmodern artists. He did sixty things at the same time, including - chemistry, algebra, medicine, art, and sculpture. It's like my position also to do many different things, like Joseph Beuys also for instance. People would not say "no" to our Leonardo proposal. Also, I was in politics so I knew when it's better to make a suggestion. I did it on the first day of a three-day congress, when everybody is hot, open, and concentrated. So it was accepted unanimously!

Art Walk community in Los Angeles had heard about World Art Day. Qathryn Brehm wrote us about their plans. Anyways, we made a program in 2016. I went to California and they made World Art Day events that spread over a week. I gave speeches. There were a lot of activities going on. They gave me an honorary membership of the city of Los Angeles.

So this is a story with a happy end.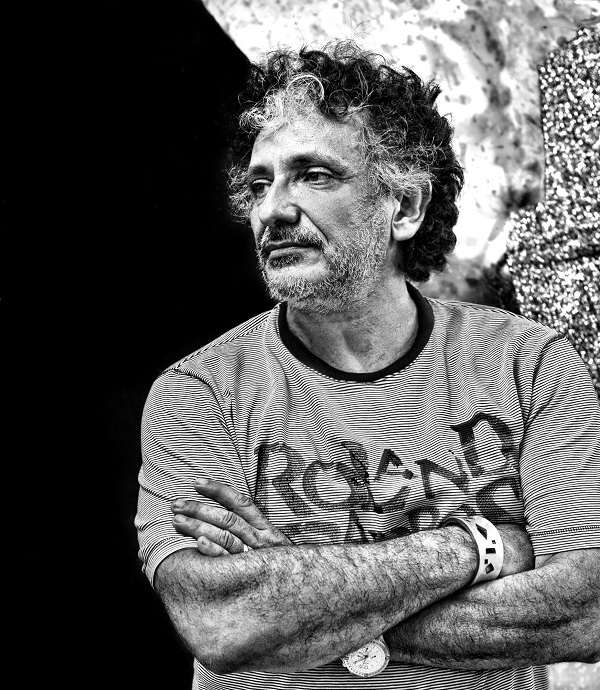 Bedri Baykam