Artists talk: Oleg Tistol & Sergei Sviatchenko
What is the main idea behind your Tribute to Viborg project? How did this show come about?
S.S. I came up with the Tribute to Viborg during my participation in the international The Weird Show project in London, early this year. It gave me a chance to work alongside the best collage artists from around the globe, and, crucially, with the acclaimed curator James Springall. I told him about my town and my idea for the exhibition over a friendly dinner at a restaurant. Viborg is my home base, with many warm memories tying me to the town. It celebrated its thousandth anniversary this year! As the city celebrated this event, I received an interesting offer from the municipal authorities. They suggested that I create a cultural project illustrating the town's history. I came to the conclusion that my connections in the art world and global thinking will help me to organize a vibrant and consequential exposition. To this effect, I invited collage artists from around the world to join the project. I suggested that they should create not just an art gesture but a tribute to our town. In order to participate, they had to illustrate a moment from the town's history and gift their work to the emergent municipal collection. My friend Oleh Tistol was on the list of invited artists. I relied on James to get more professionals involved in our shared project. James Springall is one of the best experts in the field I ever had the honor to work with. I know that the Weird Show that he curated was among the top shows of the London season, alongside exhibitions at Tate. Not too shabby, huh? So I invited him to Viborg, we ironed out the diplomatic issues with the municipal authorities, and took to work.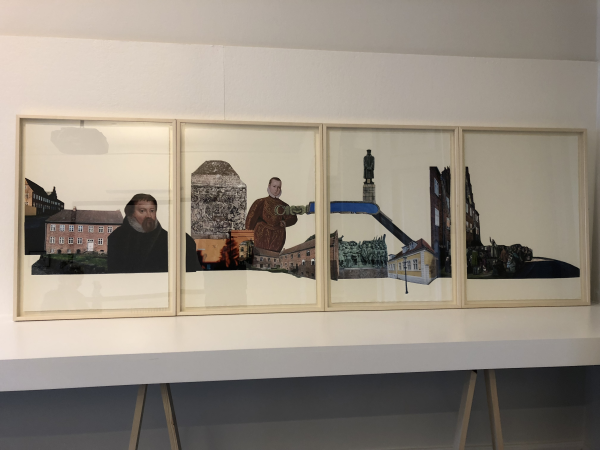 All images courtesy of the artist
Which works did you prepare for the international project in your hometown?
S.S. My Tribute to Viborg collages were slotted to decorate the town's two central streets, so I decided to reimagine the narratives known to all town residents and create striking collages on the windows. This way our idea drew attention and transcended the boundaries of gallery spaces. The works of my colleagues were put up at the town hall, in an old and recognizable building. It has lecture halls, workshops and a neat light studio. The main exposition is hosted at the studio at the moment.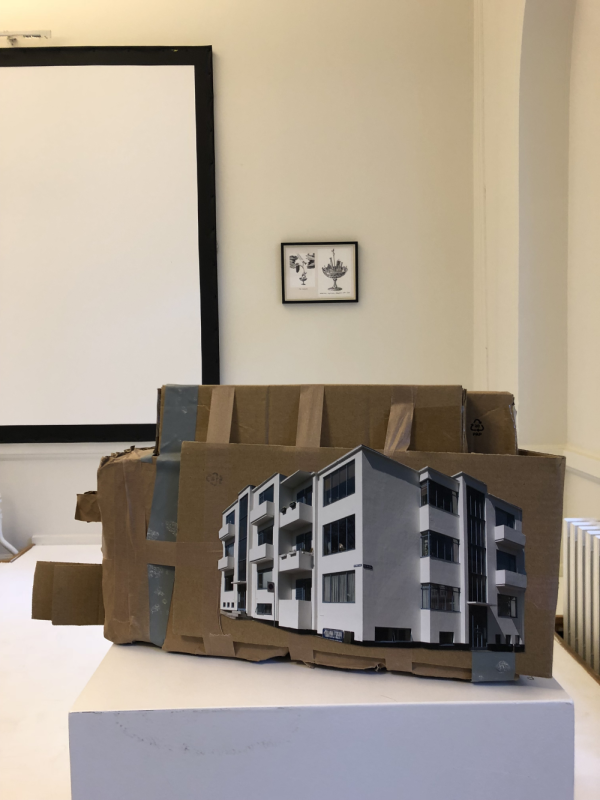 Oleh, could you tell us more about your creative visit to Viborg? What did collaboration with Sergei Sviatchenko mean to you?
О. Т. For me, the project became an organic continuation of my collaboration with Sergei. Tribute to Viborg is a notable example of a Ukrainian cultural hub. Over the year's collaboration on The End of Spring for Kyiv Art Week and our long correspondence, Sergei has doubtlessly inspired me to introduce collage elements into my works. Importantly, it was not a local project or a scattering of discrete works but an international alliance, which was a new experience. For the exhibition, I tried to combine old etchings with Viborg's views. It was an interesting experience, given that I initially worked with the photographs provided to me, relying on other people's impressions and shifting images, before actually visiting the town and seeing the views for myself. This way art anticipated reality.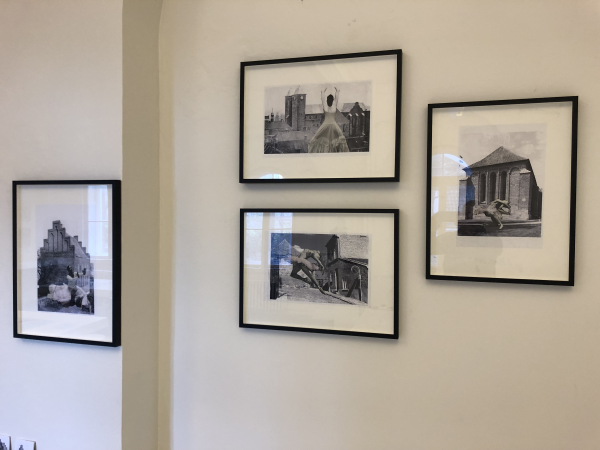 What was the atmosphere during this international collaboration?
S.S. Fortunately, no technical issues arose with the exhibition, since we work with the best, self-confident artists. I hope that the show will provide impetus for subsequent international projects. Our close-knit and successful team, spanning Manchester, Los Angeles, London, Kyiv and Viborg, has to meet again and again over collaborative projects. We are preparing for next season, which will bring image shows in three cities at once. At present, collage is an accessible and popular technique across various media, used by interior decorators, fashion designers and architects alike. An artist can procure art elements from a multitude of materials. Why should we doubt it? Collage United!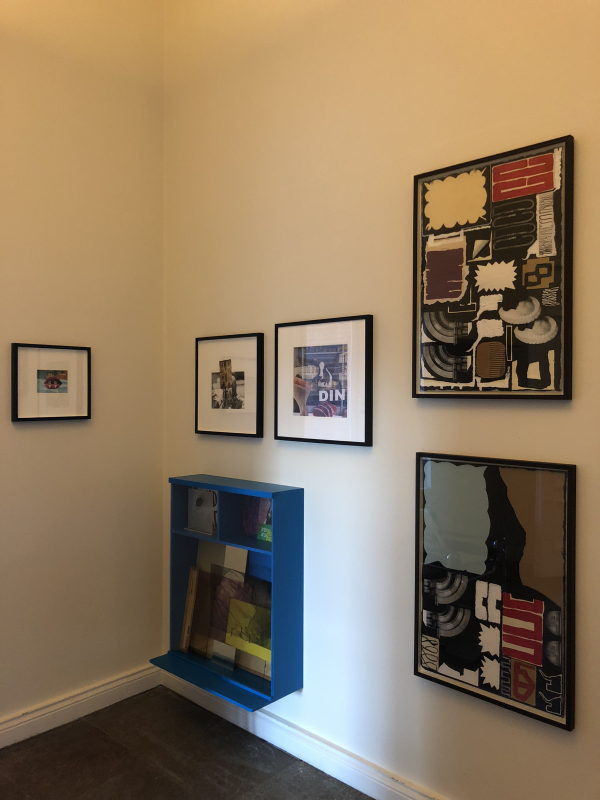 Do you really plan to open a Museum of Contemporary Collage?
S.S. I started out as an artist in the 1980s. In that ridiculously distant era, the very word "collage" has not yet gained its present broad currency, and was equated to what kids did in kindergartens. After the daring avant-garde generation, the collage technique did not develop much. It needed time. Over the course of the years, this direction developed both visually and technically. It is high time for a full-blooded institution that would host temporary shows and provide a platform for other cultural practices. Viborg is a wonderful town that could take on a new role in history by creating a museum of collages. We know similar examples: take Kassel with its renowned Documenta in Germany, for example, or the declining Bilbao and its branch of the Guggenheim Museum.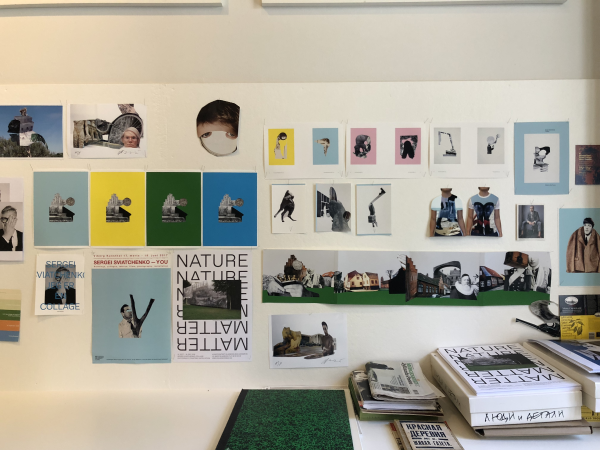 Could you tell us more about your plans for the future?
S.S. We are planning other, smaller gallery projects, while still dedicating most of our efforts and creative inspiration to the reconstruction of cities. I've recently had a meeting with the artist Stepan Ryabchenko. It was a wonderfully warm autumn day for walking in a nice neighborhood. Both of us experienced the exciting romantic atmosphere of the old Kyiv district of Podil. Each capital has its own unique rhythm and look. We are interested in highlighting the most important of these features in our works, receiving gratitude and support of ordinary citizens.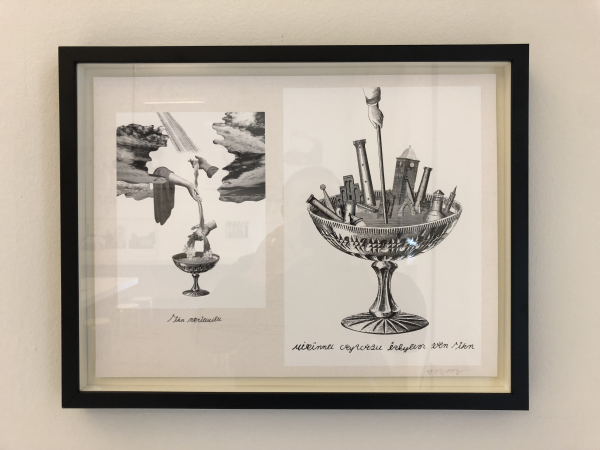 O.T. We are working towards making sure that Kyiv will generate collage ideas and large projects too. We want Kyiv to see more new works, including Sergei's. He's an expert in architecture and culture, has sophisticated tastes and knows the preferences of Ukrainians. Our nation has to unite into a cultural landing party rather than relying on a bunch of guerilla fighters conquering the world with their accomplishments. It is a simple and efficient demonstration of how art is supposed to function in the contemporary world. I have also invited James Springall to Kyiv: I hope he will become one of the first experts we can rely on. Europe is an established museum with its art history still unfolding. Our country has a different, post-Soviet context, so all the new trends appeared here at a time lag. We have to change this situation and right aesthetic wrongs. Cities need a new image accessible to the masses. People often don't understand the true function of large capitals as the sites for exchanging cultural messages.