Florence Ostende: "I want to make shows which my grandmother could see"
As part of ART KYIV CONTEMPORARY curator Florence Ostende, who currently works for the Dallas Contemporary centre for contemporary art, presented a project by French artists Marie Reinert. We couldn't miss an opportunity to talk to Florence – this young and very energetic woman can write articles, curate shows, be everywhere at the same time and constantly generate ideas for new projects.
- At such a young age you already managed to do so many things: a residence curatorship at Palais de Tokyo, several projects in Marseille, and now you are a curator at Dallas Contemporary and are also organizing a contemporary art biennale? How do you manage to do all of this?
Florence Ostende: I have no idea! It feels like I am working 80 hours a week. I am a workaholic and I think I represent a new generation of women-curators who have to work twice as hard. It is important to understand why it is so important to organize a show, why this particular art or this particular artist has to be shown. The earlier you start working and the more projects you do – the more successful are any of your later projects. I attended a curatorial program in London and this was a very valuable experience, which helped me understand the following: when you are making a show you need a very clear understanding of how you can help the artist. There are often shows that are important in the art-historical context, are very interesting for the audience, but at the same time – they are of no help to theartist or his/her career. What I am trying to do now are projects with are very stroing theoretically, but which also help the artist's development. A curator should be able to bring theory and practice, manual and intellectual products, together. All in all – I wake up really early, I write a lot, I visit artist's studios and travel.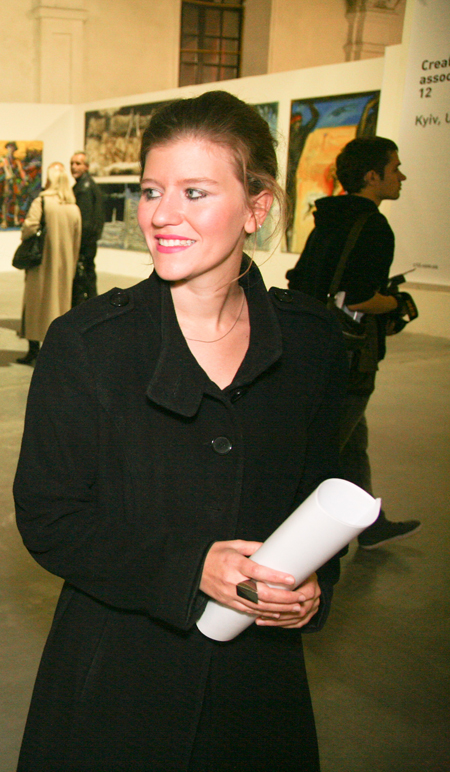 Florence Ostende at the opening of ART KYIV CONTEMPORARY
- You both write and curate…
F.O.: It's hard to find just a curator or just a critic these days. Besides, each curator should be able to transform his or her ideas into text and make that text accessible and easy to read for a broader public. It is indeed quite hard, especially when you are constantly travelling from one country to another, thinking a about logistics, transportation, insurance, partnerships and many other things.
- How did your cooperation with Peter Doroshenko (curator at Dallas Contemporary who was previously engaged at PinchukArtCentre) start?
F.О.: Peter was looking for a Europe-based curator able to create projects for Dallas. We met up in Paris and talked for more than 4 hours. He liked my vision and moreover – we both like the mono-project idea for biennales. We have an incredibly ambitious project in mind, a very open, audience-generous project. Something that we think is lacking in contemporary art today. Contemporary art tends to come of as something very simple, but in reality it is aimed and exists for a very tiny group of people.
- Indeed, international art-scene is very small and everyone knows each other
F.О.: That's right, it is very small and in reality only about 1% of the world's population is 'in'. I was reading Hans-Peter Feldman's biography, who once said that in a catalogue of his works he wants only those texts which could be easily read by his mother. I found that very touching because I always though that I want to make shows which my grandmother could see and understand. I really want to involve more people into contemporary art, to share that energy that artists give me.
- Who initiated the idea of making the Dallas Biennale a combination of separate mono-projects?
F.О.: Peter likes ambitions projects. We agreed to make a biennale which would be different from all the others, therefore we decided not to choose a theme. And this is what makes it hard because usually when you are thinking of a show you usually think of a specific theme that would unite all the works. Since the early 90s the popularity of biennalies got bigger and bigger and each of them had a theme. To make one without it seems like a very easy decision if you want to make something different. No group shows, no pre-conceived theme, just solo-projects, one after another. The Biennale will open in April 2011.
- That is very soon…
F.О.: That's tomorrow! I want the list of presented artists to be quite small, but focused. I hope each artist gets enough time and space to bring their projects to life.
- What can you say about the artistic process in Ukraine and about your stay in general?
F.О.: It's been great! I am big fan of Zhanna Kadyrova – I saw here works last year and this time at PinchukArtCentre, - I like Nikita Kadan and Vladimir Kuznietsov. When Natalia invited me to curate a project at ART KYIV CONTEMPORARY I didn't want to bring a pre-existent work. I knew that if I invited Marie she would create a piece quite quickly and it would touch on Kyiv.
- Have you ever considered collaborating with Ukrainian artists in the future? With those you mentioned, for example?
F.О.: With pleasure. I had planned studio visits for this week, but because there was so much to do in Arsenal I simply didn't have time. So I will be back soon to meet the artists and discuss future plans.
- I am sure you will find a lot here: because of general chaos and uncertainty we have so much energy and desire to do things…
F.О.: I completely agree. Even Berlin is more relaxed these days, and here you have the feeling of rush, a need to act. I don't know how to describe it, but this is exactly what needs to be explored. The new generation is very radical. I like it.