Wonderland full of potentials
Cai Guo-Qiang – 1040M Underground opens on Saturday, 27 August through Sunday, 13 November 2011 at IZOLYATSIA. This marks Cai Guo-Qiang's first solo exhibition in Ukraine and will feature two new site-specific installations by the artist, including a new series of gunpowder drawings produced on the IZOLYATSIA campus.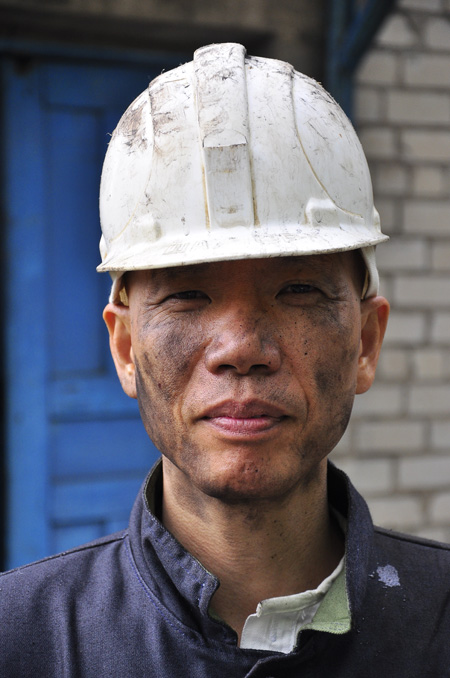 Cai Guo-Qiang. Photo by Dmitry Sergeev
Cai Guo-Qiang was born in 1957 in Quanzhou City, Fujian Province, China. Trained in stage design at the Shanghai Theater Academy, his work has since crossed multiple mediums within art, including drawing, installation, video and performance art. While living in Japan from 1986 to 1995, he explored the properties of gunpowder in his drawings, an inquiry that eventually led to his experimentation with explosives on a massive scale and to the development of his signature explosion events. Drawing upon Eastern philosophy and contemporary social issues as a conceptual basis, these projects and events aim to establish an exchange between viewers and the larger universe around them, utilizing a site-specific approach to culture and history. He currently lives and works in New York.
Cai was awarded the Japan Cultural Design Prize in 1995 and the Golden Lion at the 48th Venice Biennale in 1999. In the following years, he has received the International Association of Art Critics (AICA), New England for Best Installation or Single Work in a Museum (2005), the 7th Hiroshima Art Prize (2007), the 20th Fukuoka Asian Culture Prize (2009), and AICA's first place for Best Project in a Public Space for Cai Guo-Qiang: Fallen Blossoms (2010).
Among his many solo exhibitions and projects include Cai Guo-Qiang on the Roof: Transparent Monument, Metropolitan Museum of Art, New York, 2006; Transient Rainbow, Museum of Modern Art,
New York, 2002, and APEC Cityscape Fireworks Show, Asia Pacific Economic Cooperation, Shanghai, 2001. He also curated the first China Pavilion at the 51st Venice Biennale, 2005, and held the distinguished position as Director of Visual and Special Effects for the opening and closing ceremonies of the 2008 Summer Olympics in Beijing.
More recently, Cai's retrospective I Want to Believe opened at the Solomon R. Guggenheim Museum, New York in February 2008 before traveling to the National Art Museum of China in Beijing in August 2008 and then to the Guggenheim Bilbao in March 2009. Last year Cai Guo-Qiang: Peasant Da Vincis, opened in May 2010 as the inaugural exhibition of the Rockbund Art Museum in Shanghai. Cai also created Odyssey, a permanent gunpowder drawing for the Museum of Fine Arts, Houston in Fall 2010. Installed as part of the museum's ongoing Portals Project, it is one of his largest gunpowder drawings to date. Another solo exhibition Cai Guo-Qiang: Sunshine and Solitude was recently on view at Museo Universitario Arte Contemporáneo, Mexico City.
In December 2011, Cai will have a solo show at the Mathaf: Arab Museum of Modern Art in Doha, Qatar, his first ever in a Middle Eastern country. Cai will also be featured in a solo show at Museum of Contemporary Art, Los Angeles in 2012.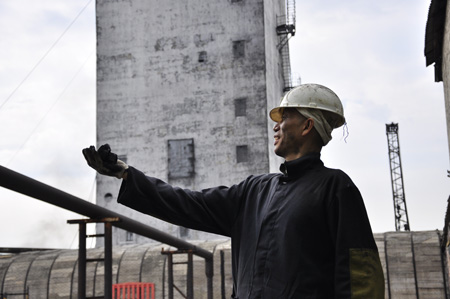 Cai Guo-Qiang during the visit of Donetsk in May 2011. Photo by Dmitry Sergeev
- When was the first time you heard about Ukraine and what were your initial ideas about the country? Have you previously thought of Ukraine as a place where you would like to have a project?
- Ukraine has been in my memory since as far back as I can remember, because it was part of the Soviet Union, and I grew up in the socialist China. When I was little, I learned about how the Cossack warriors fought with such bravery in the Second World War, and how they moved around like a demonic blow.
As an artist from a communist country, I have always wanted to exhibit in former Soviet states, even before the Soviet Union collapsed. I have always longed to start a dialogue with my own upbringing.
- Now that you have visited Donetsk and Kyiv, how has your perception of Ukraine evolved? What struck you the most about Donetsk and Kyiv?
- The week spent in the two cities taught me the similarities and differences between Ukraine and Russia. The most memorable and impressive part of the trip was my encounter with vodka. I would have never known it was so smooth and tasty, unlike what I imagined before. Perhaps my fear of hard liquor rooted from my misconception of how it would harm the body, but in truth it didn't feel so bad at all.
I was also very touched by the hospitality and honesty shown by the Ukrainian people. When I visited the coal mine, the director at the coal mine considered me as a friend, and did not try to cover up anything, whether it be leakage in the mine, or the sections of the tunnel that had collapsed before. He wanted to show me all of it, what they as workers see every day, just as it is, all the way to the end of the tunnel, where workers were digging out new coal.
- What is your interest in doing the project at IZOLYATSIA?
- It has become a long-established habit for me to work in cities where people there have a stronger sense of what contemporary art is, with a more profound infrastructure around contemporary art; or, places where the economy is well developed, with an existing museum system. Everything in this country [Ukraine] is still at its starting point, and if I can work with the people there, be it ordinary folks or mine workers, from the very beginning, with a foundation that has the same intention, and we figure it all out together, it would be an opportunity to rethink art and the society from the most basic.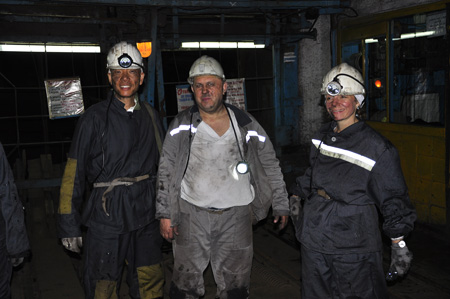 Cai Guo-Qiang and the founder of "Izolyatsia" fund Lyubov Mikhajlova in the coal mine. Photo by Dmitry Sergeev
- What was your impression of the IZOLYATSIA art-space and how do you judge the ambitions of the IZOLYATSIA Foundation?
- IZOLYATSIA is an abandoned, large factory compound under renovation; every space has its own purpose. One of the spaces is looking to become a white box of a museum gallery, another represents what is left from a fire many years ago, and still other consists of all the scraps of waste from an industrial mine. For an artist, it is a wonderland full of potentials.
- IZOLYATSIA is driven by the idea of community involvement in the realization of its site-specific projects - do you consider this to be an important element in your creative process?
- Just as gunpowder is a material full of the spontaneity and randomness of uncontrollability, the collaboration with people from the community is a similar process. Everyone is an element of this process, and human beings are unpredictable, and yet when they are put together, they produce a brand new energy, which will be absorbed into the process. This makes the project a new challenge, and all the more charming.
- You probably know that contemporary art isn't something that Ukrainian audience has had a lot of access to. Are you taking this into consideration in the preparation for your project?
- Professionally speaking, I don't lower my artistic standards just because my audience is not as exposed to art as some. The important part is how to engage my audience, and I choose to tie more local culture and history into the subject matter, something that they can easily relate to. The artwork does not start from the exhibition; it begins from the production process, that is when I start my conversation with the local community, and it is also a very good way to get to know each other better.
- What is serving as your greatest inspiration for the current project?
- I am most inspired by my experience in the mines, the history around miners, their destiny, and the juxtaposition between the Soviet era and present time.
- Can you compare your project at IZOLYATSIA to any other projects you have done in the past?
- What's similar lies in the part where I focus on the local culture, and how I open up the dialogue with the local culture. What's different is that the museum system here at IZOLYATSIA only just started, and I have never worked with the people in Ukraine, so everything will be fresh, and this will bring new challenges.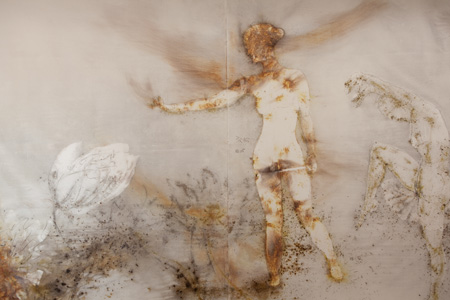 Day and Night. 2009. Gunpowder on paper. 300х200. Collection of the artist. Photo by On-Works International Multimedia Co., Ltd.
- What place does the audience have in your projects? What is your philosophy in involving others in the production of your work?
- My philosophy came from my opinion on the possibility of contemporary art: it should not be a game played only within the small circle of people in the arts. It should be like the avant-garde movements of the past; our predecessors were trying to make a difference by reflecting on the society and engaging the masses.
- What place does your cultural heritage have in your work?
- Born and raised in China, I am always happy to learn more about cultures different from mine, and maybe someday, they will become part of me too. And what I got from socialism is that I try to make my art accessible to the general public.
- Your gunpowder drawings have an element of danger, which on a symbolic level can be compared to the danger that coalminers experience in their daily work. What do you think about this parallel?
- It would be unfair to say that my explosion projects and gunpowder drawings have the same element of danger as the miners' daily work. What is similar is the unsettling feeling that is always real, always present, and not in the abstract sense; it is actually there. If you are not careful, the explosion will hurt you without a doubt.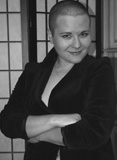 Tetyana Filevska
Victoria Ivanova