Janusz Bałdyga: «Tradition is important for young Ukrainian artists»
Is performative practice still of the main importance for you? Or gradually you shift your attention to the curatorial and teaching practice?
Performance art, often combined with object, drawing or elements of installation art, constitutes the core of my artistic practice. Writing about performance art, I highlight its fundamental, yet often ignored, educational aspect.
Performance is an open discipline, constantly revealing the process of its own creation, facing artists with strongly articulated self-education tasks.
The workshop process, open towards other people, is an integral part of my practice. I've been teaching regular workshops since 1982, originally as part of Akademia Ruchu's educational programme, and with time also at galleries, art centres and, ultimately, art schools.
Educational and strictly artistic practices constitute complementary elements of a single organism. Performance requires an active recipient and partner from the very beginning of the artistic process, which is an act of communication whose structure forms a point of departure for establishing a creative relationship between the teacher and the student.
Performance space, like the space of a school, is a field of active co-participation; the interweaving activities of the artist and teacher constitute a condition of development. A somewhat different aspect is curatorial work which calls for observation, analysis and particular choices. In my case, acting as a curator allows me to practically verify certain preliminary assumptions, including those concerning educational processes included in the proposed structure of a show, festival or exhibition.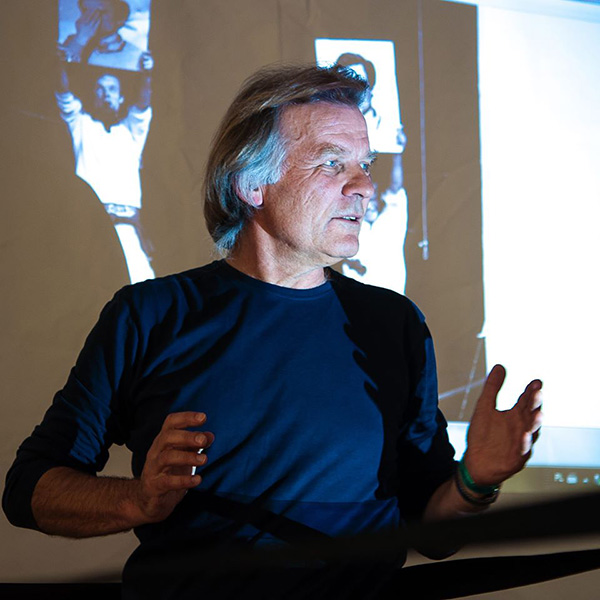 Janusz Bałdyga
Traditionally you take the role of the curator of the School of performance in frames of "Days of Performance Art in Lviv"? How would you comment on the role of school in the context of Ukrainian contemporary art development?
I've been the curator of the 'School of Performance' in Lviv since its beginning in 2009; developing its operating strategy, we were aware that we had to create a strong international, and not only European, context for it. This would be achieved in a twofold way: by inviting foreign artists to teach classes, and by making sure that young Ukrainian artists studying at the school have access to European and international projects.
Those assumptions were proven correct, courtesy, in large part, of the school's Ukrainian organisers, Lida Savchenko-Duda and Vlodko Kaufman. It was thanks to them that the school opened up to the whole of Ukraine, promoting the experiences and traditions of Western Ukraine while respecting the uniqueness and specificity of the experiences of young artists from Kharkiv, Donetsk or Odessa. I believe that from this mutual influence stems a great potential of young Ukrainian art. In the fields of performance and installation art, the Lviv 'School of Performance' represents an important and very dynamic place on the map of Ukraine.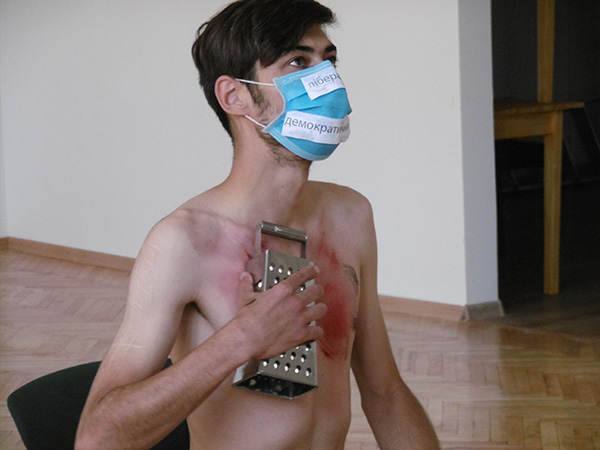 School of Performance Art Lviv - Final presentation - 2014
Is it possible to outline peculiar characteristics of Ukrainian performance (according to its method, character, problematics) in comparison with Polish school?
I think it is very hard to identify differences between the Polish and Ukrainian schools of performance. Referring to the concept of 'national schools' is a risky thing, but certain differences can be discerned; above all, Ukrainian and Polish artists have been inspired by very different historical tendencies. It seems to me that young Ukrainian artists attach greater significance to tradition and, consequently, to ritual. Perhaps it is so that the ritual tradition of the Eastern Orthodox Church has generated a much stronger process of the ritualisation of gestures and forms of behaviour than is the case in the Latin tradition. This results in certain monumentality, a characteristic that is less often encountered in the work of the young generation of Polish performance artists. Another difference is the political situation – not on the level of political scientists' deliberations but the reality of notions such as danger, security, power, fear and so on. In Polish performance art, we are more likely to encounter cultural references, e.g. to the tradition of Polish conceptual art or Polish constructivism.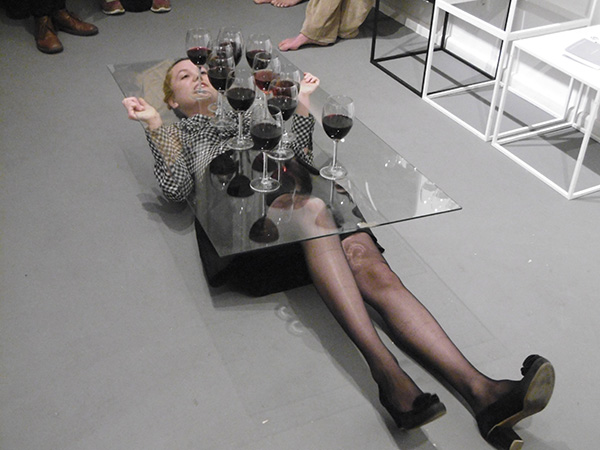 Martyna Hadyńska (Poland) - Unease - UP Gallery Berlin - presentation of my studio - 2015
Why is it important for you to participate as an expert in the contest for young Ukrainian artists MUHi 2015? What made you take this role?
Being an expert allows me to participate in the fascinating process of getting acquainted with an unknown area of a part of young European art. Importantly, this art is less known than the efficiently popularised art of Western Europe. This position requires one to analyse and modify previously established hierarchies of value.
What was the most difficult in choosing 10 finalists?
This is a very difficult task, carrying particular responsibility. It seems to me that an expert should find the right distance to those attitudes that react directly to the political situation at hand. It is difficult to distance oneself from those issues despite one's own personal emotions, and to firmly seek and promote an open, universal perspective of art.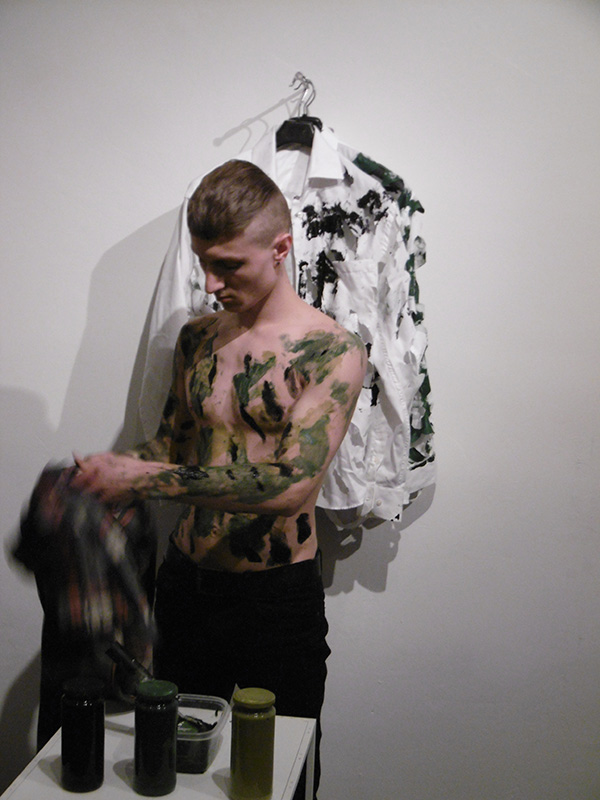 Vitalii Shupliak (Ukraine) - Unease - UP Gallery Berlin - presentation of my studio - 2015
In your opinion, what do this year's finalists have in common?
I think it makes more sense to look for differences rather than for similarities that highlight generational traits but unify different personalities. What the ten finalists share, in my opinion, is their responsible treatment of the sign and precisely the fact that they go beyond the short-term meaning of the message in search of more universal values. This is very important because it shows that they seek independence from the critics and curators, who often search for and create common areas at the expense of the private, personal area so important for young artists.
In your opinion, do this year's applications characterize the state of young Ukrainian art and in what way?
Given the conservatism of Ukraine's art schools, it is worth taking note of the great independence of young Ukrainian artists who very often seek inspiration in their life histories as well as family and cultural traditions. Art's functions as a means of communication are very strongly emphasised. Art is an element of an intense process of information exchange, so it needs to be filled with meaningful content. On the one hand, we are dealing with political or sociological reflection, but on the other hand, private, personal messages, directing us towards human intimacy, are beginning to appear and dominate. These are very interesting trends, manifestations of which could be witnessed in Polish art in the 1990s, but the scale of specific human experiences shared by Ukrainian contemporary artists significantly changes the picture.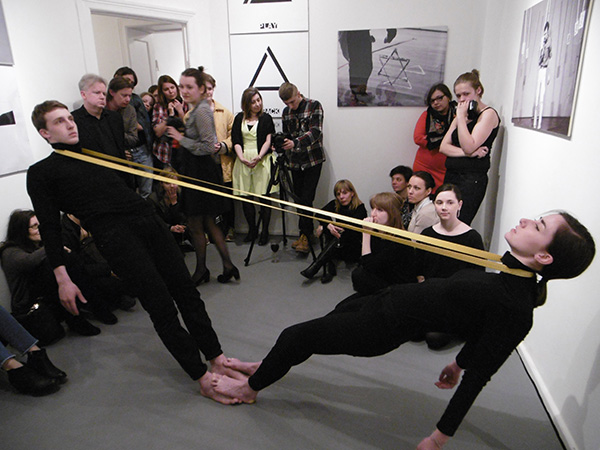 Szymon Kula (Poland), Leann Herlihy (Ireland) -Unease - UP Gallery Berlin - presentation of my studio - 2015
You as an artist usually work with the medium of performance, so how can you characterize the development of this artistic form in contemporary Ukrainian art. Is it possible to do it using the example of this year's submitted applications since 3 out of 10 finalists work with this medium (Yaryna Shumska, Anton Sayenko, Daria Koltsova)?
I think that performance art as an intermedium, strongly emphasising the course of the creative process, is a great tool for learning about and analysing the world around us. I've been watching the evolution of the Lviv 'School of Performance' (two of the finalists are its participants) as a project referring through performance to other artistic disciplines. Performance art has become for these young people a sort of vehicle of contemporary art and of contemporariness in general.
This trend has coincided with a revival of performance art, both in Poland and elsewhere in Europe. Art schools have been setting up performance art studios, while sculpture departments have been changing their formula by placing greater emphasis on spatial practices. On the other hand, the concept of performative practices has been gaining ever greater traction not only in the field of art but also in contemporary culture in general.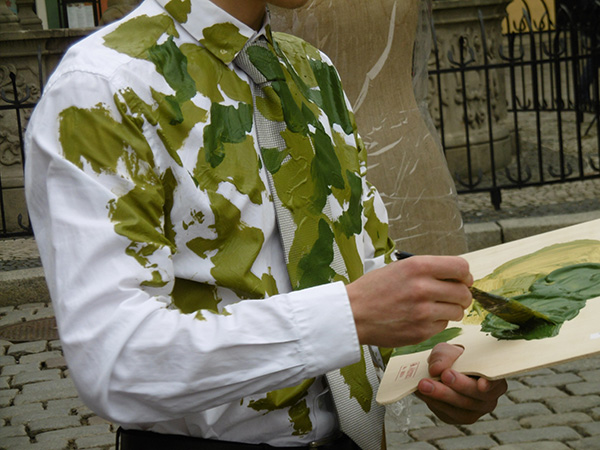 Vitalii Shupliak (Ukraine) - Unease - UP Gallery Berlin - presentation of my studio - 2015
Working with the applications of young Ukrainian artists, did you feel the influence of the current socio-political situation in Ukraine in their works?
Art and the representatives of its youngest generation treat the surrounding reality as a field of actual inspiration. In many of the competition entries can be found examples of the impact Ukraine's socio-political situation has had on its art. I believe this is a natural process and we, watching the situation in Ukraine from outside, are very interested in how young artists view the rapid processes occurring there. I can say with satisfaction that most of the works have the character of messages searching for universal references and forgoing short-term – and often easy – solutions.
Vitalii Shupliak (Ukraine) - Unease - UP Gallery Berlin - presentation of my studio - 2015