Venice Biennale "it bag" totes an invitation to activism and a free vacation
As many attending the preview of Venice's Biennale Arte know but few will admit, despite the illustrious and esoteric art exhibited among the pavilions of the Giardini and palazzi throughout the city, it's all about the bag. The tote bag, that is – that coveted carrier of catalogues, brochures and press releases that also proudly promotes a participating country's featured artist on its exterior.
In addition to being a race to scoop a story, the four-day Biennale preview is also a frenzied hunt for the toted trophies before they run out. Many pavilions have even begun selling the bags (at a discount for press) to capitalize on this craze.
But the "it bag" of this edition's Biennale preview (5-8 May 2015) was not for sale nor could it be found in any pavilion. Instead, it was secretively circulated throughout La Serenissima. And it was more than an accessory or advertisement; it was vehicle – if not a weapon.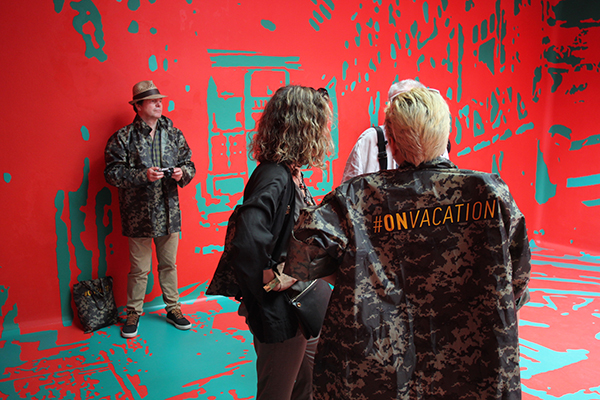 #onvacation occupies the Russian pavilion
The canvas-tote catwalk of the 56th International Art Exhibition preview included designs emblazoned with keys (A Key in the Hand, Chiharu Shiota, Japan), trees (Revolutions, Celeste Boursier-Mougenot, France), gold dots (To Be All Ways To Be, Herman de Vries, Netherlands), rainbow circles (Personal Structures, European Cultural Foundation) and trompe-l'oeil dust (Fabrik, Olaf Nicolai et al, Germany), among others. But the bag that stood out in the crowd was the cool and confounding camouflage nylon tote with matching jacket that constituted the #onvacation occupation kit.
A guerrilla initiative staged by anonymous Ukrainian activists and artists identifying themselves as simply #onvacation, the bag-and-jacket combination carries an exclusive invitation. Quietly and randomly given to Biennale-going recruits, it enlists them in ongoing occupations at pavilions of choice by wearing the ensemble. A subsequent selfie posted by to Twitter or Instagram enters voluntary vacationers in a prize drawing for chance to win a trip for two to Balaklava in occupied Crimea.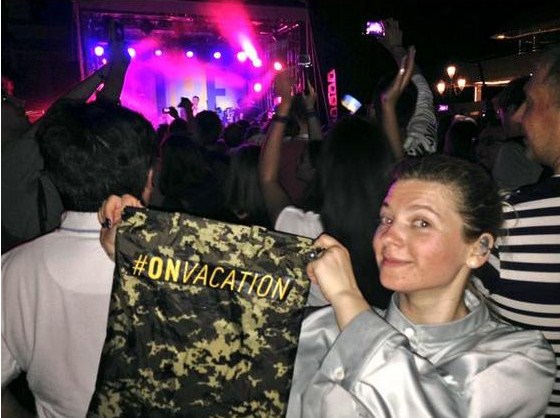 #onvacation at Okean Elzy concert for Ukrainian Pavilion opening (Photo Ivan Dyadin)
For the Ukrainian #onvacation organizers, the prime pavilion was, of course, Russia's. This in response to that country's covert and illegal annexation of Crimea last year by "little green men" (troops in unmarked uniform) and ongoing antagonism in eastern Ukraine by Russian troops purportedly "on vacation".
With their camouflage character, the #onvacation accessories simultaneously and ironically simulated and exposed these invasions as well as others. The initiative's organizers say the beauty of the concept is that vacation (aka occupation) possibilities are left entirely open. "While many of the participants understood from the embedded structural allusions of the project that Russia was an appropriate site for snapping a selfie, people let their vacation inspirations run wild," they recount.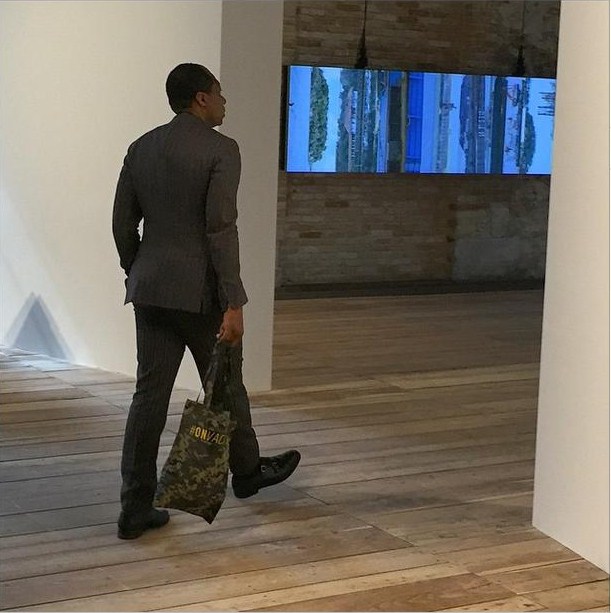 #onvacation at the Arsenale
The pavilions of China, Turkey, Israel, the United States, Serbia, and Australia, – to name a few, – were all occupied either in groups or by individuals, but the occupations didn't end there. "We discovered people all over Venice occupying for entirely different reasons, unrelated to geopolitics. Many people saw it as an opportunity to comment on cultural or psychological 'occupations' in contemporary art," they confirm.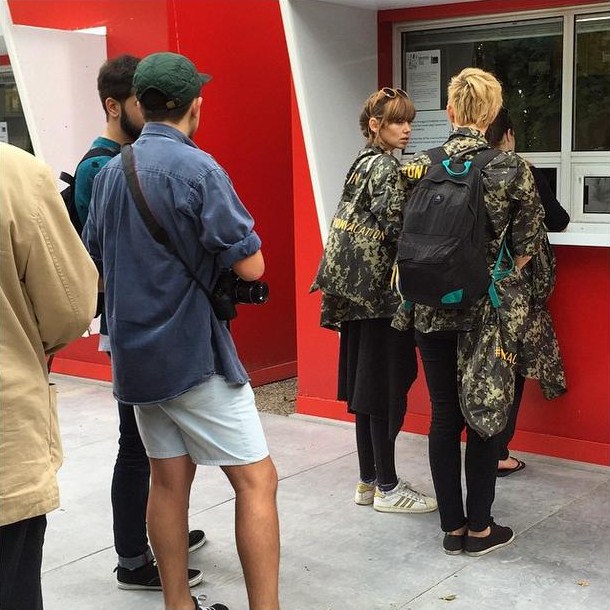 #onvacation at the Giardini
By cleverly playing on the entrenched Biennale-bag tradition, the protest-cum-performance successfully blends consumerism, art and politics in a call to action, challenging the viewer to actualize his or her understanding, experience and opinions of occupation. Organizers say they wanted to use the vocabulary of consumer culture to reinforce their own artistic vision, and were especially lucky that the project has an almost entirely consumer form. "Our bags and jackets transform the bodies of participants into our project, without having our concept shackled to a pavilion. Making this transformation attractive was key to the success of #onvacation," the organizers explain.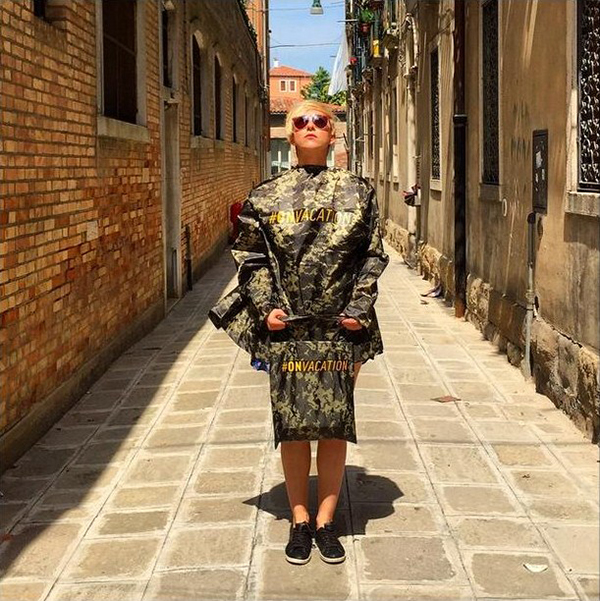 #onvacation in Venice
According to the #onvacation website, the initiative "rejects conventional forms of art making and functions both in the worlds of the parodic and the real. The fixed role of participant is constantly blurred between the consumer media experience of military conflict and the real offer to interface with an actual conflict. The project offers an entirely genuine engagement in a well-known structure—the free vacation sweepstakes – while using social media as a platform for both public engagement and lasting occupation."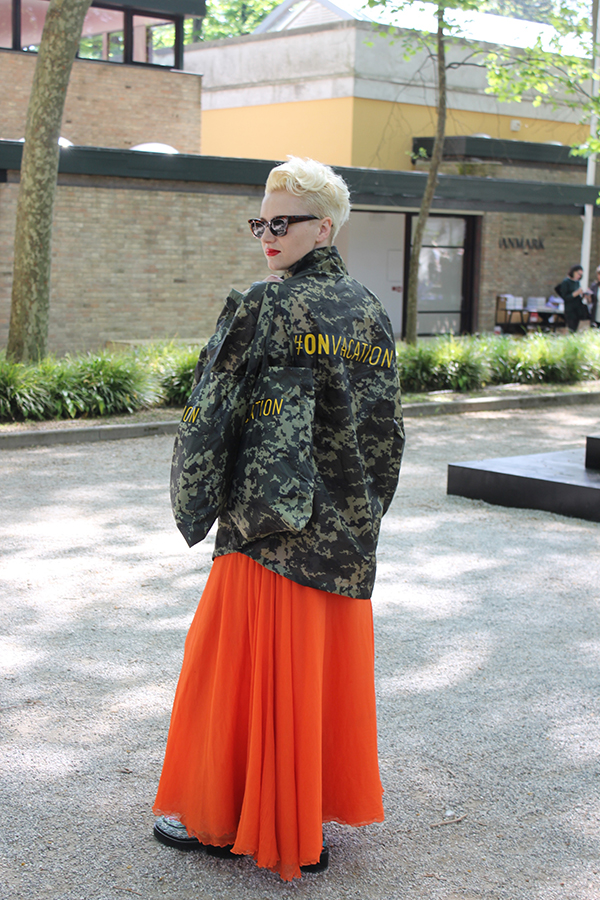 Maria Kulikovskaya #onvacation at the Giardini
Several hundred occupation kits have been distributed so far, with hundreds of selfies shared through social media. The artful initiative is on line until 9 June 2015, at which time a random winner will be chosen. In the meantime, the #onvacation tote bag remains an enlightening, in-demand accessory as its physical and virtual occupation of Venice continues, and has elicited a mixture of responses, from support to suspicion to scorn. However, the bag's aesthetic appeal is undisputed. Designed and manufactured in Ukraine, it went through several iterations before becoming what #onvacation organizers call "the perfect bag it is today", emphasizing that it always had a prominent place in the concept. "Still, we like to think it's not about the bag's origins but its purpose," they say, citing their delight at its recent adaptation as a rain hat.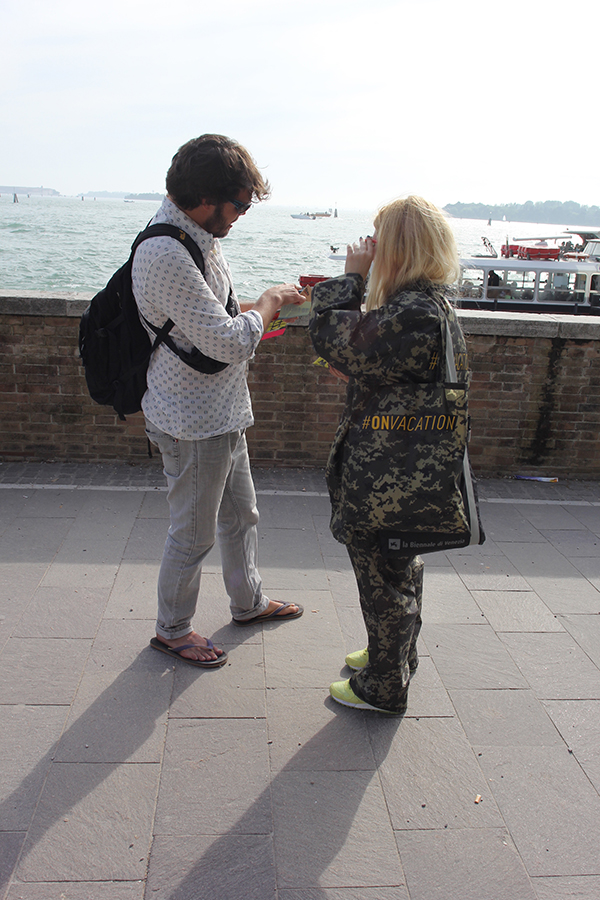 #onvacation enlisting a new recruit at the Venice Biennale
The #onvacation bag clearly has generated attention, making both fashion and political statements. Not only has it raised questions as to where it can be procured and who is behind it, more importantly, it has raised awareness about Russia's criminal annexation of Crimea and its open-ended aggression in the east of Ukraine.
The #onvacation initiative has also helped to amplify Ukraine's already prominent presence at this year's Venice Biennale – which includes Mykola Ridnyi, Serhiy Zhadan, Nikita Kadan, Yevgenia Belorusets, Artem Volotikin, Anna Zvyagintseva and Open Group – not to mention Ukrainian references in work by other artists, such as Barthelemy Toguo's "Urban Requiem" at the Arsenale. However, it's important to note that #onvacation operates independently of the Ukrainian Pavilion programme, which is organized by PinchukArt Centre with support from the Victor Pinchuk Foundation.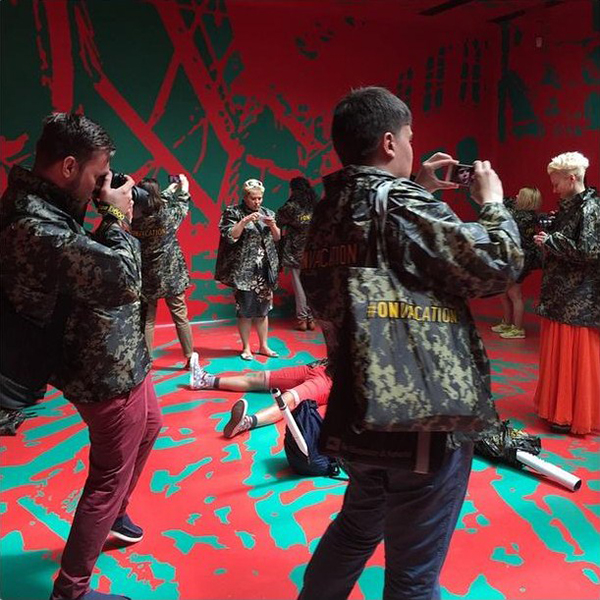 #onvacation occupies Russian pavilion (photo Clemens Poole)
Incidentally, the camouflage-clad #onvacation activists were able to assemble briefly in the Russian pavilion – most notably within Irina Nakhova's "Green Pavilion" installation – before being escorted out by security. If only it were that easy to extract Crimea's and eastern Ukraine's actual occupiers, perhaps peace would also be "in the bag".
For more information, see on-vacation.info
About the author
Christina Santore is a freelance writer and editor working internationally from Amsterdam.
The author #onvacation (photo by Edie Meyer)