"Depersonalization": Exhibition of Works by Viktor Sydorenko to Open at Shcherbenko Art Centre
Shcherbenko Art Centre (Kyiv, 22V Mykhailivska Str.) is delighted to present new "Depersonalization" exhibition by Ukrainian artist Viktor Sydorenko, opening on April 4 at 7 pm, where sculptures and a series of paintings will be presented. History remembers the artist's project with the same name: back in 2008, the clone-sculptures of 'man in pants' - Sydorenko's representative character - appeared on Malevich's avenue, Sichovykh Striltsiv street and Lesia Ukrainka boulevard in Kyiv, in 2009 - on Champs-Elysees in Paris and at Boryspil International Airport in 2014.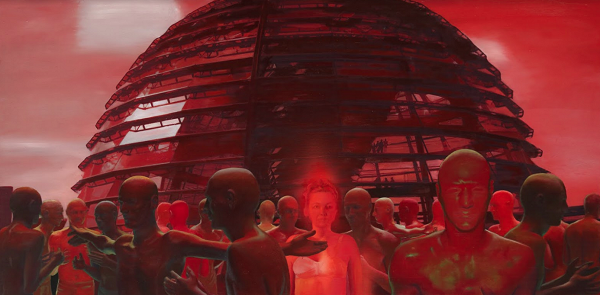 V.Sydorenko. From the "Depersonalization" project, 2017
Now the sculptures have acquired another dimension — on the author's canvases. The artist created a series of paintings with easily recognizable locations in London and Berlin, Paris and Venice, Athens and Kyiv. These places seem to be borrowed from retro photographs of ХІХ and ХХ centuries and fills them with clones, denoting the problems of the policy of multiculturalism, open borders and tolerance in familiar outlines of European cities.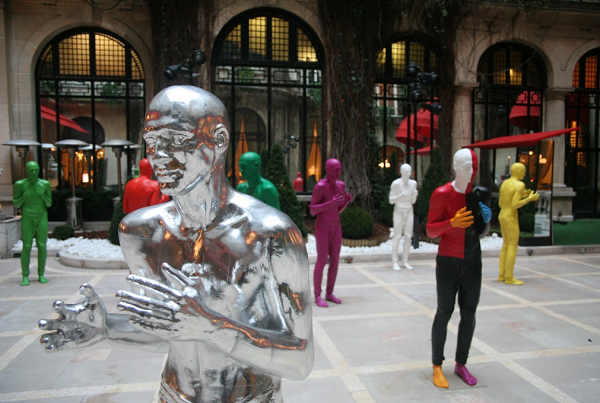 Viktor Sydorenko "Depersonalization". Plaz courtyard. Paris, 2009
Among them, we will certainly notice artist's hero or character, though differing with internal glow, who is a stranger among his own or vice versa. This is a 'man without properties' — typical, but special; depersonalized, but with a shrilly glance. A man searching for himself in tabooed past, globalized present and posthumanistic future. Looking into his eyes, we can look at ourselves, surrounded by the same sculptures in the space of Shcherbenko Art Centre.
"Depersonalization" project will be held at Shcherbenko Art Centre until May 6.
* * *
Viktor Sydorenko was born in 1953 in Taldy-Kurgan, Kazakhstan. Studied at Kharkiv State Academy of Design and Fine Arts from 1974 to 1979. In 1988 graduated from Creative Studio of the Academy of Arts of the USSR. He presented his works within personal and group projects at Shcherbenko Art Centre, Bereznitsky Aesthetics, Mystetsky Arsenal, Bottega Gallery, Mironova Gallery, National Academy of Arts of Ukraine, National Art Museum of Ukraine, Collection Gallery, L-Art Gallery, Modern Art Research Institute in Kyiv; Municipal Gallery, Art Museum, House of Artists, Yermilov Center in Kharkiv; Picture Gallery in Lviv; The 50th Venice Biennale, Venice; Black Square Gallery, Miami; Taiss Gallery, Galerie Albert Benamou in Paris; Lora D. Art gallery, Chicago; Pendleton Art Center, Cincinnati; V International Art Festival, Magdeburg. Viktor Sydorenko lives and works in Kyiv.
Shcherbenko Art Centre (ShchAC) was created by Maryna Shcherbenko, Ukrainian curator and gallery owner. The task of the centre is to create opportunities for dialogue between the art world and the general audience. The Centre is engaged in exhibition activities, and also works as a venue for lectures, round tables, workshops with leading masters of modern art in Ukraine and other countries.