Voloshyn Gallery will present Volodymyr Budnikov's solo exhibition
Voloshyn Gallery presents the Measure of Time solo exhibition of paintings by Volodymyr Budnikov. The paintings presented at the show were created in 2011 in Gurzuf (Crimea), when the artist also worked on metal sculptures.
"In a way, they document the initial stages of the creative process when discrete elements are first aligned before deciding the order of acquiring a recognizable shape," explained the artist.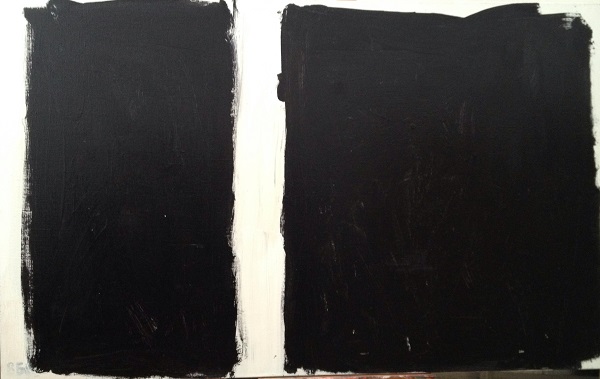 The works of the Measure of Time exhibition offer an organic combination of color planes and precise brushwork that seems to have been inspired by Japanese calligraphy. They feature pronounced borders, the rhythm and contrast of simple shapes, and monumentality. All works are united by Budnikov's characteristic restrained palette.
"Budnikov is ascetic in his color sensibility. He adds a color accent or two to the sophisticated black-and-white weave of the whole. The line between painting and drawing is rendered permeable, he explores the media specificity of both, mixing their respective artistic means, expressive lines and the wash of color, strokes and brushwork texture," aptly noted the curator and art scholar Viktoria Burlaka.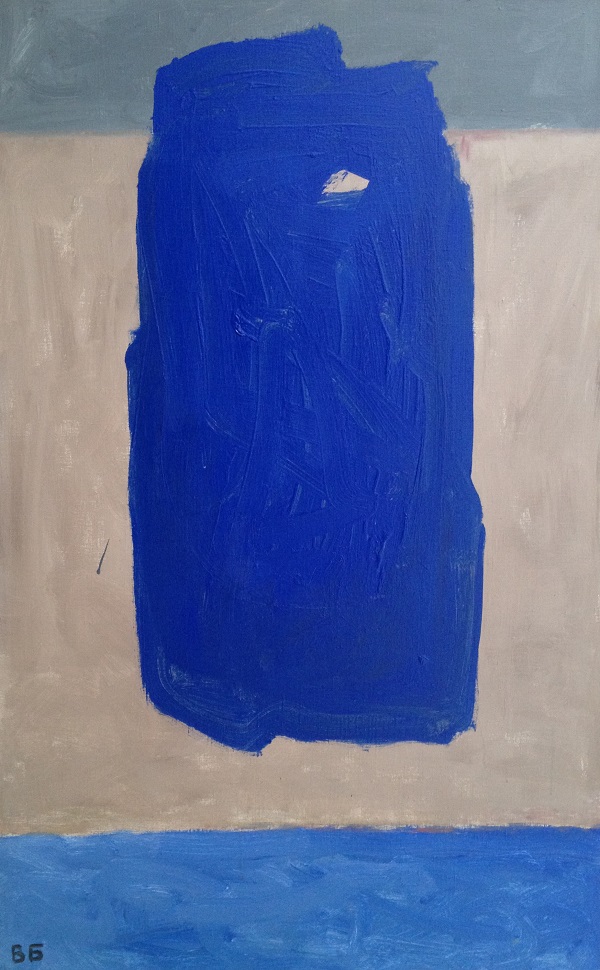 The contemplative melancholic nature of these paintings is also relevant: on the one hand, they are more interesting to contemplate than to look at, because ostensibly they "don't depict anything in particular." On the other hand, they keep the viewer's eye peeled in a kind of meditation, as if drawing viewers deeper. This bridges the two extremes.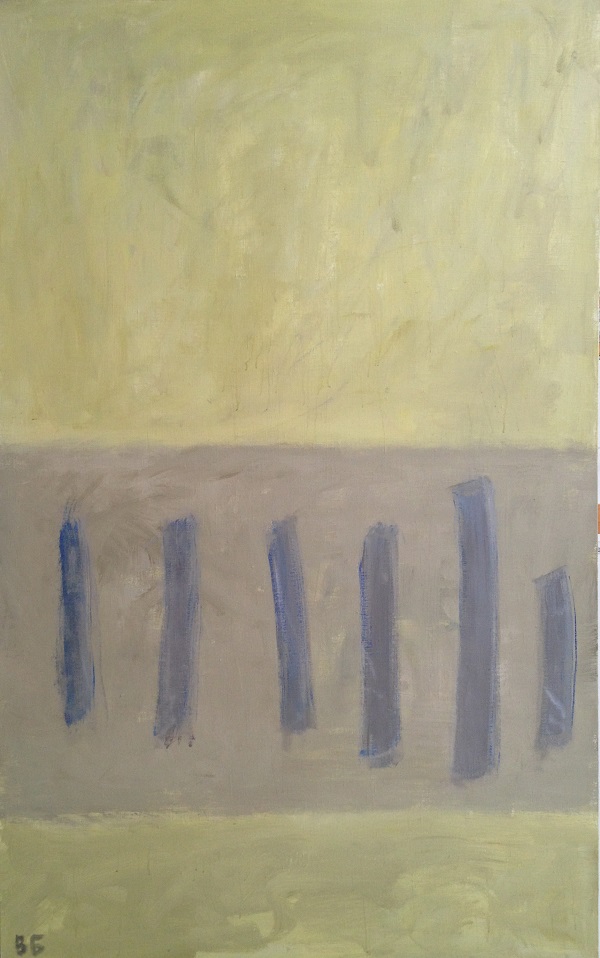 "At that point I used to spend a lot of time at scrap metal plants, among metal sheets, cylinders, wires and rods arranged by shape and size. These shape-based arrangements had something of the austerity of the musical pitch. In each discrete category of shapes, among apparently identical elements, be it cylinders, sheets or wires, the theme would begin to strain and grow more complex with the layering of potentialities: every beginning announced a different subsequent trajectory of development. Identical shapes did not herald unified meanings. These plain shapes apparently offered a score of repetitions with minimal variations. Each form repeated another one, almost identical to it, but with a barely perceptible shift," said Volodymyr Budnikov.
The multitude of almost identical elements had been evocative of "Stockhausen's musical vision, his notion of 'static' time where each composition points out the unity of several temporal planes in which time flows at varying speeds," explained the artist. As the result, the works presented at the exhibition have rhythm, broken lines, random abstract blotches and geometric shapes.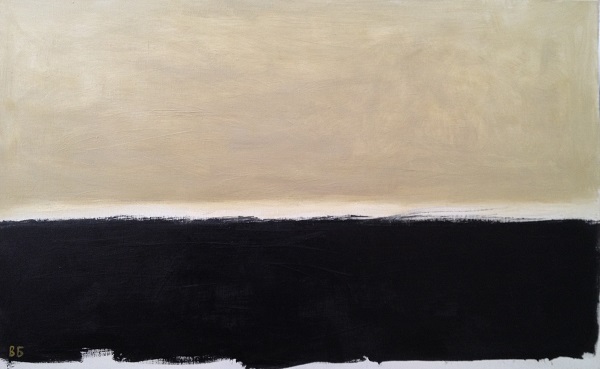 The artist claims that "the series as such is subdivided into several formulae with their own internal gradations that, in turn, constitute a scale. All formulae are interrelated. The structure of the series is also reminiscent of something like a repository for an alphabet, where the multitude of each letter is accorded a separate section. The multitude of each letter, however, constitutes a range of sounds where we are invited to discern the differences in the identical, and are informed that the presently indistinguishable sounds will scatter to different destinations."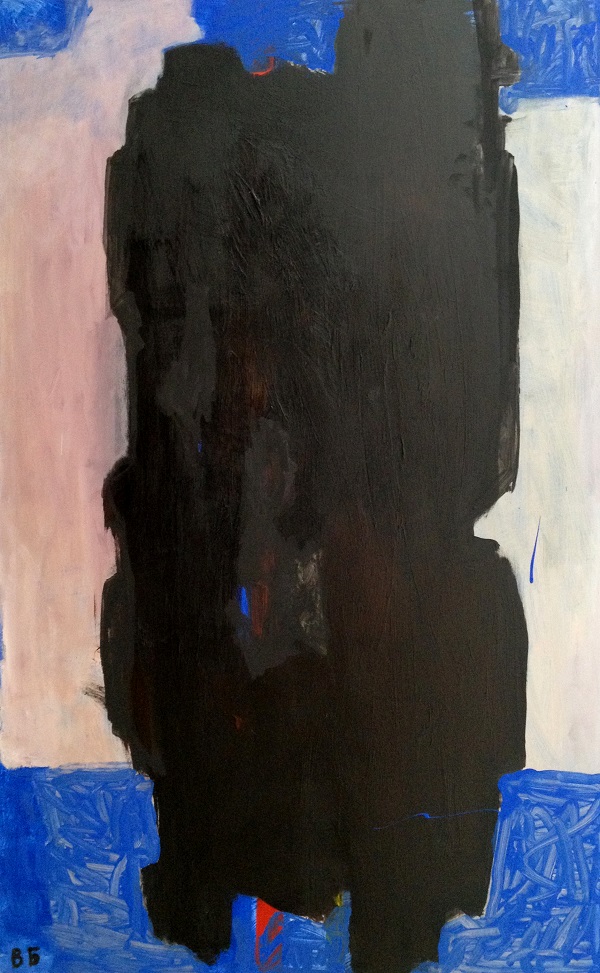 "Each composition is based on an almost absolute equality of all its constituent parts. Each line or plane persists in the anonymity where the pure origins remain unsullied by qualities or definitions. Groups of very similar images may be compared to barely perceptible recurring increments of time. Repetitions produce a ceaseless shimmer: like the frequency of light or sound, they remain in constant vibration without forming a melody or picture. Each simple element subverts the completed image, deconstructing the concentration of the end goal into the original state of the multitude of equal intentions."
Opening: March 29, 7:00 PM, Voloshyn Gallery, Kyiv, 13 Tereshchenkivska Street